To People Who Want To Have a great deer hunting experience But Can't Get Started. Here's the 7 Secret Deer Hunting Tips and Tricks To Have a great deer hunting experience And Hunt like a Pro Even if you're a beginner!
Many hunters will agree with me that deer hunting is a more challenging pursuit when compared to fishing, coyote hunting, dove hunting, turkey hunting, etc. Deer hunting is not easy but with these 7 simple deer hunting tips a beginner can have a great deer hunting experience, and you can learn something new each time even if you're already have years of experience.
Get right on track with these 7 simple deer hunting tips to have a great deer hunting experience.
1. Getting Your License & Certification
It is illegal to grab a gun, get some woods and hit the trail. You need to get a license and pass certification lectures based on the state requirements where you'll be hunting.
The state's Department of Natural Resources website is a good place to find and sign up for a hunter safety course to get certified. When you get certified, make sure you carry the certificate along with you whenever you're out hunting.
In United States, some states are "draw states," where hunters must state where they plan to hunt. Get yourself well grounded with the rules and regulations for the state where you are hunting, so you can be aware of any limits or restrictions.
2. Dressing For Success
You are more likely to get cold in the morning and during the evening hours and hot during the day. Wear layers if it's warm, and be sure to cover the layer with camouflage if you are bow hunting. Make sure to carry enough oranges if you are gun hunting.
Hunting vests works well because you can wear them over t-shits or parkas. Wear coveralls and heavy coats for cold and extreme weather situations. Use neck warmer and cap to keep your head and neck warm when it's cold. Hunting boots is the most important piece of clothing for cold weather hunting.
Hunting boots is a must have and you can get them at cheap prices. Make sure you have at least 800 grams of Thinsulate when you're cold weather hunting so you can keep your feet warm during the cold weather deer hunting.
3. Know How To Use Your Weapon
Shoot as much as possible during the preseason, it will help improve your shooting skills and learn the limits of your abilities and the gun's. Know the distances you are shooting from as this will help you judge distances when you're out there in the field. Start shooting at 50-100 yards, then move on to 200 yards if you plant to hunt in wide open areas. 50 yards is the longest distance required to shoot from if you are hunting in a forested area.
Study the area you will be hunting and pay close attention to the choke points & travel corridors. You can use the USGS Topographical Maps to study the area. Also, use Google Earth to access the real-time satellite image of the area you are hunting. Keep an eye for patches of the heavy foliage which might be the bedding areas or agricultural fields that serves as food sources, bands of foliage or fence lines used as their travel corridors.
Another good equipment to bring along is a tarp which makes dragging the deer back to the waiting truck/cabin more easier and also ensuring that the body cavity is free of debris. A small 5′ by 8′ tarp will be all what you need and you buy it from Amazon.com or from your local hardware store.
4. Scouting For Deer
Doing your scouting good before the season opens will help you greatly as you won't alert the deer of your presence prior to the opening of the new hunting season.
It is better to do your scouting from a distance because scouting for deer is not the same with scouting for other animals. The best times to do your scouting for deer should me early mornings and late evenings because that's when they are more active. Be sure to find a couple of prospective places to hunt if you're hunting public land and make a list of handful of go-to properties to hunt.
Hunters now have the opportunity to scout without leaving their house. Yahoo maps, Google maps and several other sites offer satellite maps for free. it gives the hunters a bird eye view of any property the country. This new technology helps the hunters with access to spy on deer and also take their photos without walking into the woods. Hunting GPS device will help you way-point that spot before you start walking.
5. Eliminate Human Odour and Bring Attractant Scents, Decoys & Calls
Hunters are very careful with their odour at the start of the hunting day, so they spray odour eliminator before heading into the hunting field. Deer have a keen sense of smell and most deer hunters are aware of it. Some hunters don't know that moving air acts in the same manner as moving water does and that it also swirls and eddies around any obstacle. Thus, it is important that you cut your human scent with Odour Eliminator.
You have to make yourself invisible to the deer and to achieve that you need to your shower, then dress up with the camouflage clothing and make sure to line it with activated charcoal or dirt and leaves within your hunting stand. But, as you continue to breathe, your human scent will keep building up, so you spray yourself down regularly as you move to different locations, don't forget to note your hair pattern and hat.
Drawing the bucks to your hunting stand using the dominant buck scent its a great idea during the hunting periods and during the rut. The combination of attractant scents with both calls and rattling will pique the buck's curiosity creating the illusion of two bucks fighting over dominance or a buck calling out to a doe.
The deer would expect to see another deer when answering such calls when they arrive the scene and not doing so could trigger their instinct that something isn't right about their situation. So it is vital to you use a deer decoy to focus the buck's attention while drawing them closer to your stand and get a clean shot at it.
6. Set Up Your Hunting Stand
The view from elevated position of the tree stands is great, but some hunters might prefer the ground stand because it is more comfortable and provides better shelter.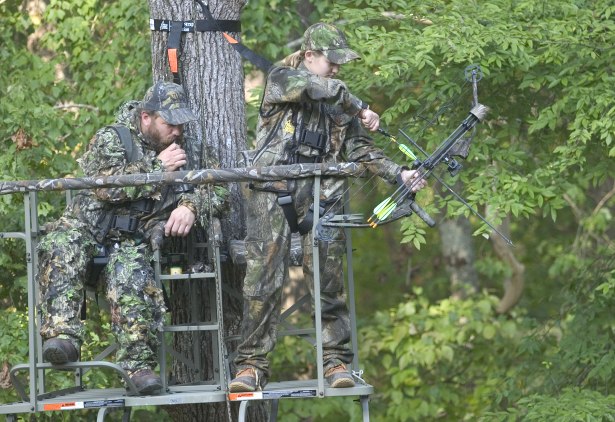 Where your hunting stand is located doesn't matter as long as you're well concealed, you can get in and out of it gently and also have clear shooting lanes. If it requires to clear the vegetation for unobstructed views, the you should do it.
7. Have A Little Patience
You need to be patient out on the hunt and relax your pace. If you feel that itch in your body to move to another location, its best to choose a time that you're going to stay put for, and stick to the plan. Deer hunting isn't a sprint, it's a marathon.
Conclusion
While there are other tips and tricks to hunt deer, these 7 deer hunting tips and tricks outlined above are the most important tips for any deer hunting beginner and applying them will greatly increase your chance of filling both your freezer and hunting tags as well.